Can you screenshot OnlyFans? Can You Screenshot OnlyFans Without Them Knowing? If the same set of questions have been running through your mind, it is time you learn everything about Only Fans screenshots.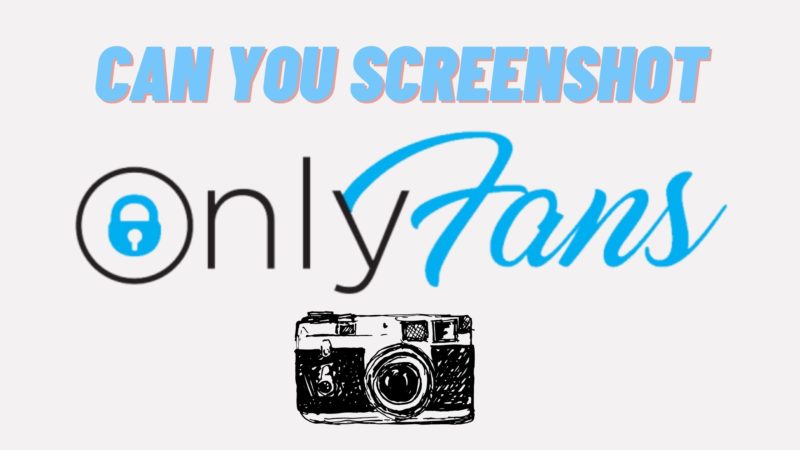 No matter if you're a regular viewer or a creator in the OnlyFans portal, chances are pretty high that the question "Can you screenshot OnlyFans?" has crossed your mind at least once. For a regular user, it might be the thought of capturing desired moments that made them get introduced to OnlyFans screenshots. At the same time, for the creators, the question might happen to sit in the mind when they think if their fans can actually screenshot them. Whatever might be the case, the answer lies here.
But before we start decoding whether OnlyFans screenshots are a thing or not, let's quickly have a fair idea about what OnlyFans actually is. 
OnlyFans: A Brief Idea
Talking about OnlyFans, it is a content-sharing platform. Founded by Timothy Stokely, it is basically a web-based portal. Interested users can use this very platform to offer videos, photos, and other sorts of media content to their admirers. Besides, the creators can even decide to have a one-on-one chat. 
The business model of OnlyFans is entirely based on Subscriptions. In other words, the creators offer the above-mentioned services or media only at the expense of some desired price. With that being said, OnlyFans and its creators earn money when someone decides to purchase a subscription. 
Talking about the Onlyfans Subscription nature, well, it is recurring. In other words, the users in OnlyFans need to pay some money on a monthly basis so that they can enjoy the content shared by their desired content creator. 
Now that you've got a fair idea about the platform itself, it is time we head back to what most of you're here for "Can you Screenshot OnlyFans?"
Can You Screenshot OnlyFans?
If you make your way to the OnlyFans website and hover over to the Terms of Service page, you'll have a lot of information to take notice of. However, for those who're not willing to walk through the long list of terms set officially, here you've got the simplified answer.
One section of the Terms of Service page says, "You should not reproduce, create derivative works of, publicly display, print, distribute, attempt to download, modify, publicly perform, republish, download, store or transmit any of the available Content, except as the ones permitted under the Terms of Service." It certainly means that the platform actually doesn't allow storing the creators' content in any manner. Also, there do exist restrictions when users intend to reproduce, publish, or distribute OnlyFans screenshots.
This is the main reason why when general methods of taking screenshots are used; the outcome is nothing but a blank piece. However, there are multiple other ways to screenshot OnlyFans until and unless you intend to use the recorded content for non-commercial use. In other words, you must make sure you're not violating anything. But again, the entire might be against the creator's will, so it is always recommended you have their consent before proceeding any further.
Can You Screenshot OnlyFans Without Getting Banned?

Many of us wonder if OnlyFans screenshots can actually land our profile in a situation where it gets banned altogether. Well, the answer pretty much revolves around the actions that will follow. As already mentioned quite a few times, if a user manages to get screenshots by any method and decides to keep it himself/herself without violating the OnlyFans terms.
Here is the list of things that might happen when you actually start using the screenshots for various commercial purposes:
If you're running a website and use one of the pages to distribute the content, the same will be deindexed from Google.

If you're proven to be guilty, your account can even get suspended for your entire life.
Can You Screenshot OnlyFans Without Them Knowing: Screenshot Notifications
OnlyFans does not actually notify about screenshots. Generally, it is believed that the OnlyFans platform is unable to detect if anyone takes a screenshot of the available content either using a PC, iPhone, Android, or any other device. Although the assumptions are pretty evident, you can never deny the unusual nature that the world of the internet holds on to. 
There are a number of available social media apps like Snapchat that are built in a manner to notify the creators about any screenshotting or screen recording situation. In that case, if you are taking a screenshot of someone's story on the Snapchat platform, a green arrow will automatically feature beside your username in their story viewers.
Until now, there is no such framework in the OnlyFans platform. Moreover, being web-based, there doesn't exist any dedicated API for collecting or sending screenshot notifications. But again, the future is uncertain.
Frequently Asked Questions About: Can You Screenshot OnlyFans?
What Happens When You Try Taking OnlyFans Screenshots?
As there is nothing clearly mentioned about screenshots, can users actually take them? Well, the answer somewhat resides in the opposing end. Usually, when you try to take screenshots on OnlyFans, you only get a black piece. However, there are various other ways in which you can actually have the moments captured.
Is Screenshotting Illegal?
No, it is not. Saving pictures online is fine as long as you comply with the terms and conditions. As clearly mentioned in ToS of OnlyFans that the users are strictly restricted from reproducing or republishing the content.
Do the OnlyFans screenshots lead to a permanent account ban?
Actually, no. Anyone who is a subscriber can save desired content as long as he/she is not distributing it. Such actions generally don't lead to account suspension, and the scene is no different with OnlyFans screenshots. For that matter of fact, you can screenshot anything on the internet without getting banned until you don't intend to use them commercially. 
Can OnlyFans screenshots be detected?
If you're a creator and wonder if unusual screenshots by your fans actually make the OnlyFans portal send you a notification or not, the answer is a straightforward no. Having said that, if you're worried about getting your content leaked, you actually shouldn't share them in the first place, as the risk of the content getting stolen and/or distributed is pretty high.
Wrapping Up
Can you screenshot OnlyFans? This very question has been troubling many individuals all around the world. Some are worried about the situation getting terrible with all the profile banning scenes, while others are in a continuous state of confusion about whether the creators are actually going to get notified or not. Whatever might be your piece of query, the article will walk you through answers to each of them.
The moral of this very story is that you can always save or capture your desired moments without worrying about the future of your profile until you know you're not moving forward with distributing those content for commercial purposes or violating other existing terms. But at the end of the day, screenshotting someone without letting them know is not an appropriate approach in any manner. For that reason, we always encourage taking consent.
This ends the session about "Can You Screenshot OnlyFans?"
Want more amazing content? Well you'll love a simple visit here.
Disclaimer: We at Java2Blog don't encourage saving or using other's content in any manner. The existence of this article about Can You Screenshot OnlyFans? Is entirely for educational purposes.