Looking for ways to fix Instagram Music Search not working?
Instagram provides countless features that may ignite your creativity at any moment. And the latest option to use Instagram Music in Stories has taken the game to a whole new and fascinating level.
While the function is relatively new, the platform's music library is pretty extensive. The app allows you to add music not just to Stories but also to Reels, offering your audience a whole different vibe.
However, not all Instagram users are blessed with this amazing tool, and you'll get an "Instagram Music is not available in your region" message appearing on your screen. Other times, the music sticker will be available one day and disappear the other. Not to mention, frequent user reports state that the Instagram search bar isn't showing any results.
All these problems require quick and easy solutions. And fortunately, you've landed on just the right page. We have listed down numerous remedies that will get your Instagram Music to work in no time.
So, let's not waste much time and dive straight in!


Reasons Behind Instagram Music Search Not Working.
Instagram Music Search not working isn't something out of the ordinary. However, you still can't locate a single factor that's occasionally causing trouble to users.
One possible reason behind the "No Results Found" error could be that the song you're searching for is not available in the app library. Unfortunately, there is no way you can go around and fix this issue unless, of course, you're a hacker.
What can be fixed, however, is the Music Search not working due to technical issues or the type of Instagram profile you own. The social media platform does not allow business profiles to use copyrighted music as they can be misused for commercial purposes.
Moreover, there are several unknown reasons that cause the application to behave in such a way. So, keep reading and learn how to tackle the situation on your own.


Fix Instagram Music Search Not Working.
Before jumping straight to solutions, make sure the Music sticker is available and working. This is because there are several regions where Instagram Music is missing altogether.
Below are the steps you need to follow:
Launch the Instagram application.

On the Profile tab, tap on the + icon next to your profile picture.

Now, choose Create Story.

Then, select a video you'd like to add Instagram Story to.

After that, tap on the Sticker icon at the top and choose Music.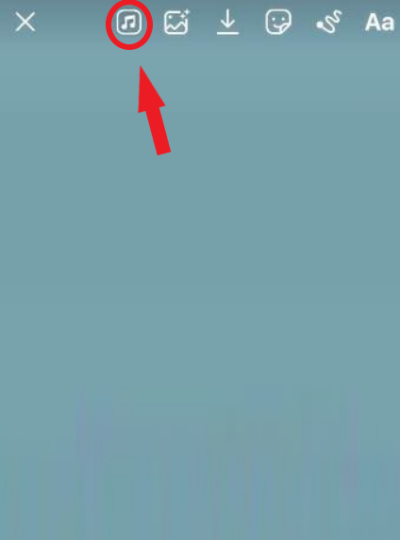 Doing so will display a list of music options. Otherwise, there's an error in the system that needs to be resolved by following any of the methods below.


1. Update The Application.
If you haven't updated Instagram in a while, you may be running a version that contains bugs. Generally, minor glitches are easily eliminated when you update the app.  Although most people turn on automatic updates, the app may sometimes fail to update if not connected to Wi-Fi due to saved preferences on your device. 
To manually update Instagram, follow the steps below:
Open Play Store on Android or App Store on iPhone.

Type Instagram in the search bar.

Tap on the Update button next to Instagram if there's a new version available. If you see an Open button instead, this is an indication that you're already running the most up-to-date version of Instagram.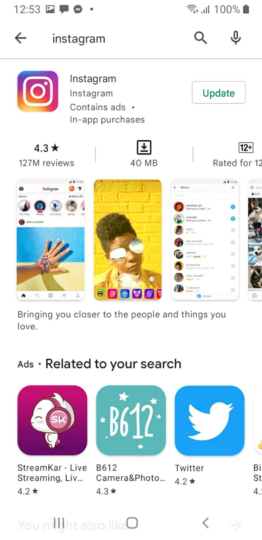 2. Switch Back To Personal Account.
As stated earlier, Instagram does not allow business accounts to use the Instagram Music feature for copyright protection. So if Instagram Music search is displaying a "No Results Found" error, try switching your business profile back to a private account and see if the problem gets fixed.
Here's how you can do it:
Upon launching the Instagram app, go to your Profile tab at the bottom right corner of your screen.

Then, tap on the hamburger menu icon at the top right corner.

From the pop-up options, choose Settings.

Now, go to Account.

Scroll down to Switch to Personal Account and tap on it.

Lastly, tap on Switch to Personal Account again to confirm the action.
It's best to refresh the app or re-login to your account before checking if the Instagram Music search is working correctly.


3. Clear Cache & Storage Data.
Over-storing the application's cache and data often result in various types of bugs. So, if you're facing any sort of issue with Instagram, such as Instagram Music Search not working, try following the steps below.
For Android:
Open Settings, scroll down to Apps, and tap on it.

Next, tap on All Apps to view the complete list of installed apps on your phone.

Select Instagram.

From there, go to Storage.

Lastly, tap on Clear cache or Clear data. Note that the latter will also erase your account data and passwords.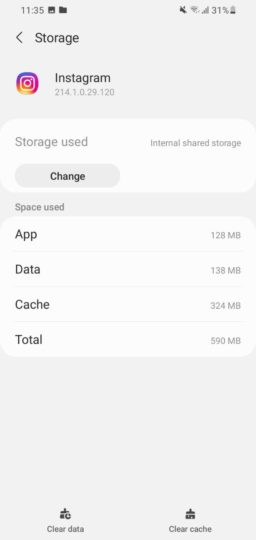 For iPhone:
Launch the Settings application.

Then, go to General and select iPhone Storage.

Now, look for Instagram and tap on it.

Finally, tap on the Offload App option. This is an Apple-specific term that means to delete all program data of the app without affecting its settings and documents.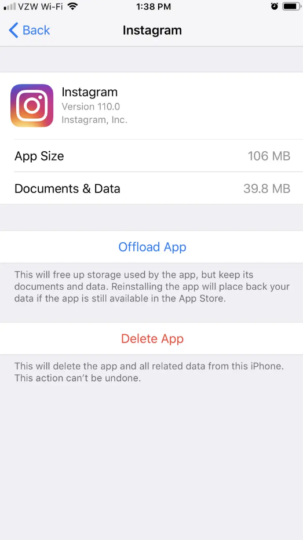 4. Reinstall Instagram.
If clearing cache and app data weren't effective, the chances are that your application is corrupted. But don't fret. This can be easily fixed by deleting Instagram and reinstalling it. Here's what you need to do:
Simply tap and hold the Instagram application.

Let go once you see multiple options appear next to the app icon.

Just tap on Remove App or Uninstall to get rid of Instagram.

Then, open the Play Store or App Store depending on whether you use an Android or an iPhone.

Type Instagram in the search bar.

And tap on the Install button.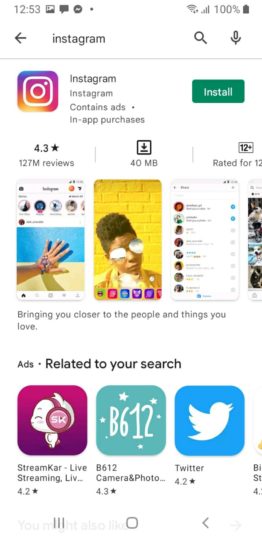 Use your login credentials to log back into your account and check if the Instagram Music search is now working. Otherwise, move to the following methods.


5. Use Instagram Lite.
If you've almost given up by now, then this method is for you. The explained fixes may not have worked for you because the problem is in the app itself. This usually occurs due to too much user traffic on the platform.
On account of this, the company has also released an Instagram Lite, which cuts down data usage and processor. Not many people prefer using this version as it also doesn't support all app features. This brings less traffic and would be a possible solution to your problem.
It is important to know that this method only works for Android users as the iOS ecosystem doesn't support Instagram Lite.
To learn how to go about this, follow these steps:
Begin by opening the Play Store.

Next, download Instagram Lite.

Once done, launch the application and enter your login credentials.

Go to your Profile tab and tap on the + icon. Then choose Create Story.

Give access to multiple options the application asks for.

Choose media and use the Instagram Music option to add your favorite music.
If you don't like using this version of the app or own an iPhone, proceed with the following methods.


6. Use A VPN Connection.
Instagram Music or certain songs in their app library may not work in certain areas due to restrictions in those regions. To tackle the issue, you can use various VPN connections. They will provide you with a new IP address, making it appear as if you're accessing the application from a different country.
There are countless VPN services, but you shouldn't trust all of them to work. Some of the most reliable options you have include ExpressVPN, NordVPN, Surfshark, etc.


7. Use DownDetector.
When you've tried all the solutions, it's best to consider that the issue is on Instagram's end. There could be some internal issues with Instagram, and you can't really do much other than wait patiently for the services to be back online. Also, keep an eye on the status of such issues by using either DownDetector or Twitter trends.


8. Reach Out To Instagram Support Center.
Your last resort to Instagram Music Search not working is to reach out to Instagram Help Center and ask for help. Even though this method is almost always ineffective, you never know when the support team may come out and resolve the issue for you.
Follow the steps below to learn how to perform this method:
Head to the Instagram Help Center web version to submit your complaint. 

Alternatively, open Settings on the Instagram application from your phone.

Then, choose Help.

Tap on Report a Problem.

From the pop-up options, again select Report a Problem.

Now, on the given field, type your problem, attach any screenshots for reference, and tap on Submit.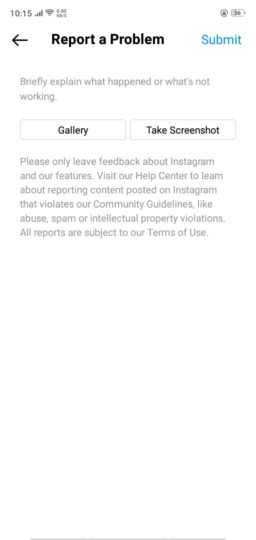 Now, wait for the support team to respond to your query.


Frequently Asked Questions (FAQs):
1. How do you add music to Instagram Stories?
Adding music to Instagram's stories is quite an easy task. Simply select the Music sticker and choose any music you like from the list. If you don't see a song, you can utilize the search bar to look for the song. Moreover, you can move the audio and select a particular part of the song to add to your story.


2. Why is Instagram Music not available in my region?
Getting Instagram music not available in your region message is common among users not living in huge countries. That's simply because the platform has yet to acquire a music license in those areas. To work around this error, you can use a VPN and hide your actual IP address.


3. Does the Instagram Music feature have a limit?
Instagram has no limit to how many times you can use the Music feature. However, there is a limit to the length of the clip you add. As long as the artist has made his songs available for Instagram Music, users cannot add more than 15 seconds of it.
Wrap Up: Instagram Music Search Not Working
Instagram Music is a great feature that enables users to post stories that pass a certain vibe check. For this reason, the option not being available to many or not working properly has proved to be fairly problematic.
But if you've made it to this part of the article, you must have found yourself a solution. If you have more questions related to this topic, do not hesitate to leave a comment down below. We will do our best to assist you further.
Also, don't forget to subscribe to the Java2Blog newsletter, so you stay updated with our regular content through emails.


Was this post helpful?
Let us know if you liked the post. That's the only way we can improve.