Idea of cloud computing may be very old but it became a reality when Amazon rolled out its Elastic Compute Cloud (EC2) model in 2006. Since its inception, Amazon enjoys leadership in cloud market despite the presence of other big giants like MS Azure, Google Cloud Platform (GCP) and IBM.
There is no doubt about the fact that Cloud technology will dominate the future. It's a technology that's already accepted by businesses around the world as stable, secure and economical solution. Experts are of the belief that within Cloud Service Providers (CSP), Amazon leadership will remain intact for sometimes. It's ideal time to develop expertise in this technology to aim high for the future.
When it comes to choosing cloud platform for certification, number one choice is Amazon Web Services (AWS). AWS is popular as it's continuously enhancing itself with new features every month. AWS certification is considered most prestigious certification in cloud industry, as it validates your expertise over industry deployed standards of AWS. If you don't know about these certifications you are already too late.
AWS certification track is currently offering following three tiers
1. AWS Certified Solutions Architect.
2. AWS Certified Developer.
3. AWS Certified SysOps Administrator.
You can do any of these three certifications in Associate level. Once you have completed your associate level certification, you can opt for either professional certification in Solutions Architect or DevOps Engineering or you may choose specialty in Advanced Networking or Big Data.
Many people get confused on which certification to choose from above mentioned list. There is no best person to answer this question except the one who is undergoing certification. It all depends upon factors like your area of strength, your nature of job etc. For system administrator who want to migrate to cloud should go for AWS Certified Sysops Admin. Likewise for programmers, best track is AWS Certified Developer.
AWS jobs are very much in demand these days, as professionals who can work on this new technology (AWS) are rare. If you have done any of AWS certification you are eligible for AWS certification jobs. As more and more businesses are shifting there on premises equipment to cloud, it is very much expected that AWS jobs salary scale will increase. Keeping in mind all that, it's perfect time to start your AWS certification as chances for your selection increases if you have any of AWS certification in your hands.
AWS certification is new in the market and its books are relatively rare as compared to books available for other certification, though there are many online resources like online trainings, video tutorials etc.
In this article we will see books that are available for AWS certification. These books should be used as supplement to online resources. AWS also offer facility to create free account for one year, when going for AWS certification it's a must do thing for everyone to develop hands-on experience. There are currently only two official guides available that are written by Amazon.
1. AWS Certified Solutions Architect Official Study Guide: Associate Exam (Import edition)
If you have chosen AWS Certified Solutions Architect path, than this is the best companion for your certification journey. It's an official guide written by AWS expert to cover every aspect of Solution Architect exam. This guide not only helps in clearing the exam but also helps in acquiring necessary hands on experience, which is main aim of getting every certification. As certification alone is of no use until you have necessary hands-on experience. This Book offers chapter review questions which are provided at the end of every chapter, access to Sybex's online learning environment and many more.
Few topics covered in this book are
Access Control Lists, Firewalls, DNS, and NAT.
Elasticity and Scalability Concepts.
Different Consistency Models in AWS Services.
Usage of AWS services like Compute, Networking, Storage, and Database.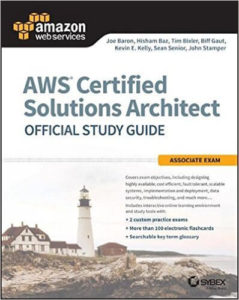 2. AWS Certified SysOps Administrator Official Study Guide: Associate Exam 1st Edition
This is another guide developed by AWS expert for AWS SysOps Administrator Certification. Just like previous official guide, this guide also covers all essentials of AWS SysOps Administrator certification.
This book helps to attain main objective of sysops administrator, that individual is capable of deployment, management, and operations on AWS platform.
Apart from these two official guides there are some other useful books also which you can use as helping material for AWS Certification.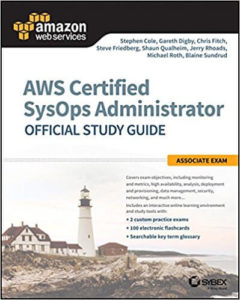 3. AWS Administration – The Definitive Guide
A good book for system administrator who want to learn about cloud system. This book is written from perspective of those who have basic knowledge and understanding of system administration and want to learn cloud system administration from scratch. It provides hands-on tutorials, real-world use case scenarios, and many more. This book can also be used as helping agent for AWS DevOps certification.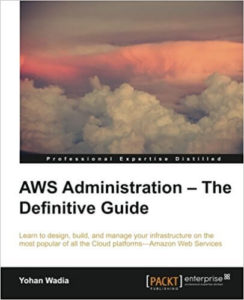 4. Amazon Web Services in Action 1st Edition
This book provides in-depth knowledge of AWS computing, storing, and networking. As you read more you will learn more about important services in AWS. This book introduces you to topics like
Cloud Concepts and Models (IaaS, PaaS and SaaS)
How to get most out of EC2 model
How to configure applications in AWS
Data Storage in AWS (SQL, NoSQL)
It's a good read with lots of good diagrams and screen shots that demonstrate how to practically configure a service.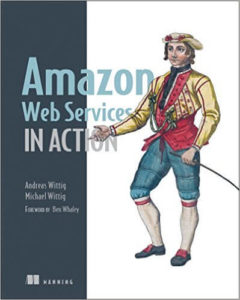 5. Server less Architectures on AWS: With examples using AWS Lambda 1st Edition
AWS technologies like AWS Lambda can help to deploy and configure a server less model, this book guides you how to do all that stuff. AWS is rolling out new products with very fast pace. It's good to have this book if you want to learn about AWS Server less model. This book guides you about
Server less computing models in cloud.
Important patterns and architectures
AWS Lambda
Securing, deploying, and managing server less architectures.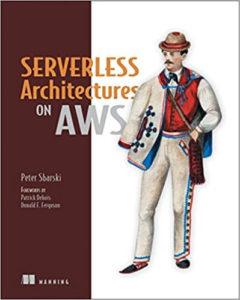 That's all about best books on aws certifications.If you find any other book useful, please do comment.